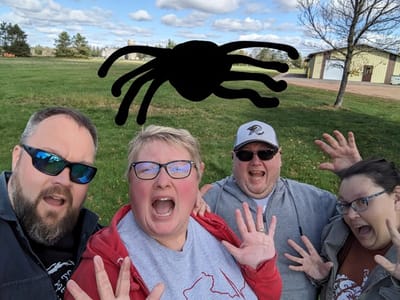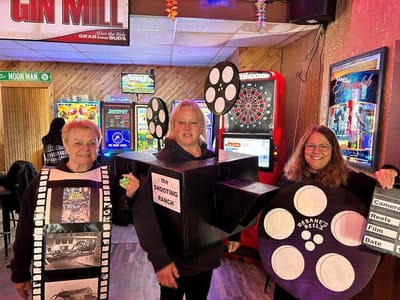 ON LOCATION WITH FILMMAKER BILL REBANE History Hunt Recap

The Merrill Historical Society 2023 History Hunt – On Location with Bill Rebane – was held on Saturday, October 7th. It was a fun and successful day.

Eleven teams participated in the Hunt! They were B Movie Squad, Rebane's Reelz, Event Horizons, Doering Gang, PB&J, Blood Monster, The 3 Cs, Raabe Team, Alpha Coincidence, Rebane A-Go Go, and Local Extras. The teams were all over Lincoln County, collecting history and finding some of the shooting locations for Bill Rebane's films. In addition to several local teams, we had teams from Stevens Point, Chicago, and Minneapolis. Director Bill Rebane has quite a following. The Bill Rebane exhibit will be up at the Merrill Historical Society Museum for several months yet, so if you missed the hunt, come and see what the excitement was all about!

We also would like to thank the many sponsors and participants of the History Hunt! Cora had some amazing stories to share around Schultz Spur, Tomahawk Historical Society pitched in and offered history to share (braving the rather cold, windy day), the Gin Mill in Tomahawk, Rusty & Linda DeBroux at the Bethany Church Studio, Angie at 17 Scoops in Gleason for some great stories (and a gift certificate), Marie Rein at the Brickyard School house where a scene from Devonsville Terror was shot, Paul Proulx reminiscing with the hunters at the Sheriff's Office (and Sheriff Schneider for letting us use the squad and parking lot), sponsors Johnson Gifts, Sweeter Times, and West Side Market (who gave prizes but also got in the fun interacting with hunters). Merrill Historical Society had some autographed Bill Rebane posters to raffle. Other sponsors who offered prizes were Weinbrenner Shoe Company, Incredible Bank, Americ Inn, Cosmo Theatre, and Sutton's Wine Bar. Ballyhoos did a wonderful job of hosting the After Party, great snacks!

Winners of the prizes were: Rebane's Reelz and Blood Monster tied for Best Costume; Alpha Coincidence received Best Team Name; B Movie Squad received Best Social Media Presence. A special award was given to PB&J as the longest participating team.

We are so appreciative of our community businesses for their continued support of all the activities in Merrill.